Presentation of books by Rakhymzhan Otarbayev (1956 – 2018), the honored worker of Kazakhstan, holder of the "Parasat" Order, writer and playwright – "I bil ya podobiem tvoim" and "Plach Chingiskhana" were presented at the National Academic Library of the Republic of Kazakhstan.
The books were published by "Vostochniy Express" publishing house with the support of the Kazakhstan Embassy in the Russian Federation.
The presentation was attended by well-known Kazakhstani writers, literary and theater critics, researchers, public figures, as well as representatives of local government agencies in charge of cultural development.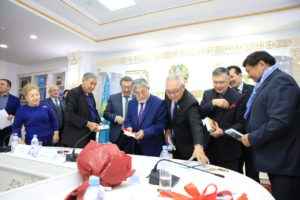 There was  also presented a book of Gulzada Nietkalieva, the literary critic about the writer's work, a photo exhibition and stage performances on the dramaturgy of Otarbaev.
Separate works of the author were previously published in Turkish, Arabic, German, English, Chinese and Azerbaijani. Rakhimzhan Otarbayev's plays "Sultan Beibars", "Bas", "Nashakor zhaili novella", "Nurzhaugan-gumyr", "Syrym batyr", "Mustafa Shokai" and more than ten others were staged in republican and foreign theaters.
Chingiz Aitmatov considered Rakhymzhan Otarbayev as "the best representative of intellectual prose of the 21st century", Abdizhamil Nurpeisov called him "Kazakh Chekhov".
The presentation was organized by Rakhymzhan Otarbayev Foundation on support of young literary talents with the assistance of Atyrau region Administrative Office, Makhambet Academic Theater, National Library and "The LitHouse", the literary agency.