For the first time the World Bank's GovTech Global Forum "Governance in the Digital Era" was held in Washington DC, during which the Astana Civil Service Hub (ACSH) was announced as a global partner of the financial organization.
The international expert platform brought together the world's leading researchers, innovators and practitioners in the field of GovTech to exchange ideas and shape the digital transformation of the public sector for a sustainable and fair future.
Mr. Alikhan Baimenov, Chairman of the ACSH's Steering Committee, took part in the Forum. According to his comment, "during the Forum experts highlighted the idea that modern technologies should be used to increase the level of public trust in governments." Mr. Baimenov emphasized that "in this matter, it is very important to establish partnerships with businesses as studies show that on average trust in technologies used by private entities is higher than in trust in funds used by governments". He also noted that inclusion in the list of global partners of the World Bank is a great honour for the ACSH.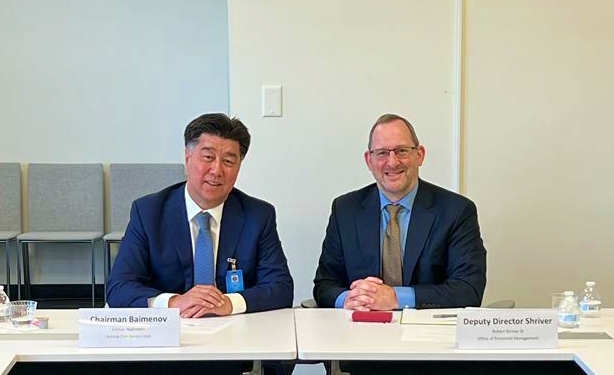 During the visit Mr. Alikhan Baimenov and Mr. Altair Akhmetov, Head of the Public Administration Department of the Executive Office of the President of the Republic of Kazakhstan, had a meeting with the senior management of the U.S. Office of Personnel Management (OPM) – Mr. Rober Shriver III, Mr. Mark Lambert and others. Representatives of OPM informed about the peculiarities of the functioning of the american civil service system, including the process of selection and evaluation of personnel, as well as the senior executive service (Senior Executive Service – an analogue of Corps "A" in Kazakhstan). The parties also discussed opportunities of further cooperation, including joint programs on capacity building of civil servants in Kazakhstan and the countries of the region.
It is worth noting that the United States is one of the co-founders of the ACSH and its best practices in improving the civil service is a benchmark for the countries of the region.