On May 9, 2018 Astana residents walked a long walking route «Immortal Regiment» carrying portraits of their families who fought for our freedom. About 30 thousand people came to pay tribute to the memory of the dead soldiers. They sang in chorus famous military songs, such as "Den' pobedy"(«День победы»), "Katyusha"(«Катюша»). Participants of the procession shared stories of their parents, brothers and sisters, grandfathers and grandmothers, great-grandparents and great-grandmothers.
The head of our state personally met with veterans of the Great Patriotic War. The meeting took place in Almaty in the 28 Panfilov heroes park. After laying flowers at the Eternal Flame, Nursultan Nazarbayev talked with the veterans and wished everyone good health.
The party "Nur Otan" created the action "Unforgettable heroes". The concept of the promotion is to get rid of injustice. Over 100 Kazakh heroes were presented to the highest military and state awards during the war, but for some reason they could not get them. The "Nur Otan" party members offered to correct this.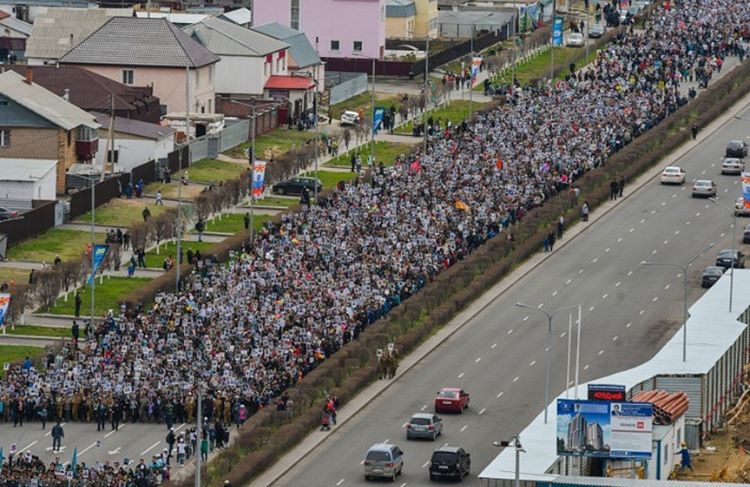 Traditionally, the Day of the Great Victory ends with a grandiose firework in many countries of the post-Soviet space.
In the evening, a lot of people came to the central embankment of Astana to look at the solemn fireworks in honor of the Great Victory's 73th anniversar. Along the fence between the pedestrian bridge of Seruen and the bridge Karaotkel, families with and without children, teenagers and the adults, men and women, were standing. People started filling the embankmen  from 9 p.m. The promised firework had to be started at 22:00. However, people who were standing in vain did not see the festive lights in the sky of Astana. Scraps of frustrated phrases "where is the promised firework?", "What did we come for?", "After a few years, this holiday will be forgotten at all", etc.
Instagram users were also indignant:
"The President is in Almaty, that's why the firework is also in Almaty."
"But the state is going to spend 19 billion tenge on Astana's day. Is it really difficult to allocate 1 billion for a firework in honor of the Victory Day? "
"Complete hypocrisy. They thank and promise from the stage, but in fact, even traditional fireworks do not work"
Similar comments gained about a hundred «likes».
Anzhela Kaliyeva